"There is no such thing as a problem without a gift for you in its hands. You seek problems because you need their gifts."
~Richard Bach from
'Illusions: The Adventures of a Reluctant Messiah'
Sky just before the first storm on Monday

I ordered several books in the last few weeks- poetry by Dahlia Ravikovitch, a collection of Leo Buscaglia lectures,
Soul Collage
by Seena Frost and
Illusions
by Richard Bach
(on my mind perhaps because of the recent quotations from The Bridge Across Forever posted by Andy?)
.
Three books arrived today. I was thumbing through the Richard Bach book, and ran across the passage containing the quote above. I don't know that I
seek
problems, because I surely don't like having them, even when I am in that 'vaguely dissatisfied, but nothing is really wrong' state of mind. But despite my thinking that I don't I seek them, it is also rather clear to me that there are indeed gifts that come with problems if one just looks closely. Sometimes that requires retrospection; sometimes it doesn't.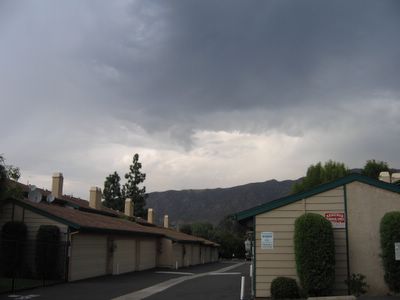 more swirling sky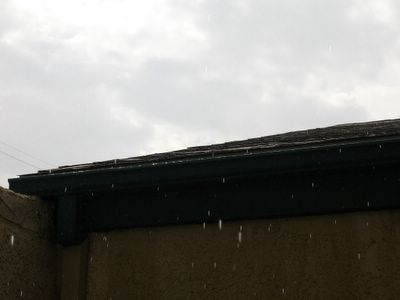 catching the first bit of rain

gifts from the storm

I couldn't stay for the rest of the sunset on Monday, because there were clients to see. But I caught a tiny glimpse of it just before I pulled into a parking lot behind tall buildings. It was achingly beautiful. A gift in between the storms.
Perhaps in general that describes this period of time- or at least I should look at it that way.
#